Ubersuggest Vs SEMrush – Best Keyword Research Tools In 2022
Comments Off

on Ubersuggest Vs SEMrush – Best Keyword Research Tools In 2022
, 10/02/2022, by , in
SEO
Best Keyword Research Tools: If we consider what is more time-consuming SEO or studying for higher degrees, I will say SEO. you already have materials for study but for SEO it's a bit different. You will have to research the material; you will have to find the keywords, fix bugs, audit sites, basically, you will have to do everything from the beginning.
It would have been so relieving if a tool could do that for us, hold on! We have a tool that meets the exact expectations. I use them both every day, as my job requires it. I have learned how they work and can actually write a blog about it for you guys, which I am doing right now.
Introducing Ubersuggest and SEMrush
These are the two most popular and reputable SEO tools available right now. They offer a lot of features that will help you to improve your performance and strategies.
In this article, we will be discussing Ubersuggest Vs SEMrush. This article is going to be a bit long; therefore if you want to know more about the topic, then you have to read this blog to the end.
Background Idea About Ubersuggest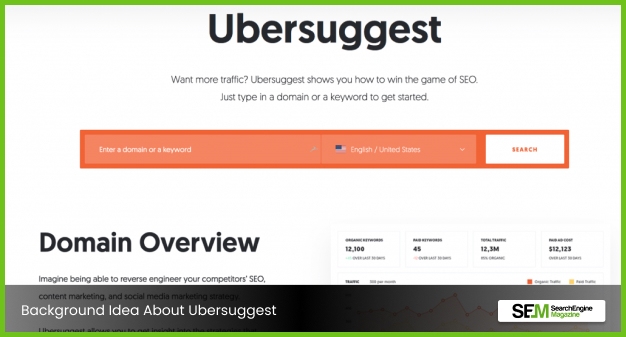 Unless you are a person who likes to live life in an old-fashioned way where everything is so simple, you know that Neil Patel acquired the SEO suite Ubersuggest just a few years back.
He gave it a good facelift along with new features, and it has become his biggest traffic driver at the moment. We will now be talking about ubersuggest's capabilities, pricing, and a lot more about other stuff.
Ubersuggest Features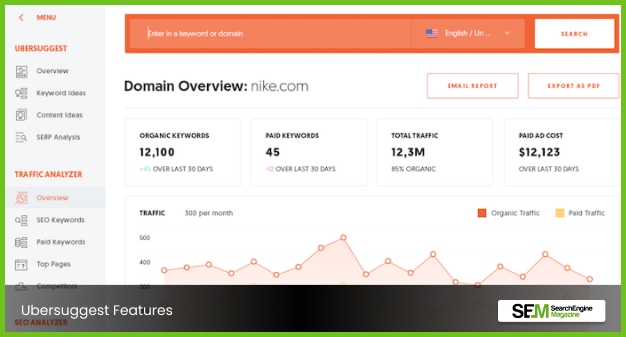 The features of ubersuggest are very simple and streamlined. It is quite simple to use, and there is nothing that will make you confused about its elements.
All you do with ubersuggest is log on, get your SEO data, and get back to your grind.
Let's talk about the project feature that Ubersuggest has,
Projects
The project lets the search marketers track all the single domains and organize all their data in one dashboard. There is no need to jump from websites to URLs or vice versa; why will you if you are able to track everything and keep on referring to it.
Therefore, it is quite simple to track performance, share findings, discuss them with your team, etc.
Here are steps that you need to follow if you want to create a project with the help of Ubersuggest:
With your Google account, you have to sign up in ubersuggest, which is definitely free.

Then, start creating your first project from the dashboard.

Enter a preferred domain and the title of your project.

You will have to choose the country from which you will be tracking keywords.

Go through the keywords you would like to track; to do that, accept Ubersuggest's findings or import CSV files. 

Use this to find or track organic traffic, links, keywords, and referring domains.
Now that I have mentioned the steps you have to go through for creating a project, I am now going to bring you to the next feature of Ubersuggests.
Site Audit
This tool treats your website as a patient and diagnoses it like an e doctor. By diagnosing in detail it brings out all the good and bad things that you need to see. It gives you an on-page SEO score, health check, and more.
You will have to enter the URL in the search bar to see how it looks, it looks pretty good to me.
I use this for a quick overview of my and clients' websites. It is not hard as it sounds; you won't find it tough to understand I can bet it is not too technical as well. But I suggest keeping track of the updated version of ubersuggest. 
Keyword Research
If people know about ubersuggest, they know it by its terrific capability of keyword research feature.
This gives search marketers the data it needs on keywords and also suggestions for others.
Trust me, it saves a lot of time and helps in finding keywords to rank for.
 If you want a visual example of it, type a word in the search bar and then click the button.

The left side includes keyword ideas along with their metrics such as volume and CPC.

You have to click the boxes which are on the left for copying and exporting via the buttons.

Take a look at the right side now; that is where the SERP links are for the keywords.
If you use this feature, you will understand what other competitors are doing.
Competitive Analysis
Those who know ubersuggest that it is a useful tool for keeping tabs on competitors.
Otherwise, your life would be like a rabbit-like turtle and rabbit race story. It is good at saving time, though.
When you are capable of snooping into another domain and getting inspired by keywords and content, then why do the leg work all by yourself? Plug the domain into the 'overview' page and then take a good look at it. The top page shows the organic keyword, links, and domain score.
You are going to have an idea of how they are working or performing. Right below this, you will find the organic traffic chart. Use this as a benchmark to compare your performance with others. I am sure you will have some strategies to boost your research.
Pros And Cons Of Ubersuggest

Pros
Free 7 days trial to test the pro plan.

New contents, keywords, and links.

Price friendly than SEMrush.

Easy to use the dashboard.

Constantly being upgraded.
Cons
No social media tracking.

No brand monitoring.

No custom reports.

Not as technical as SEMrush.
Background Idea About SEMRush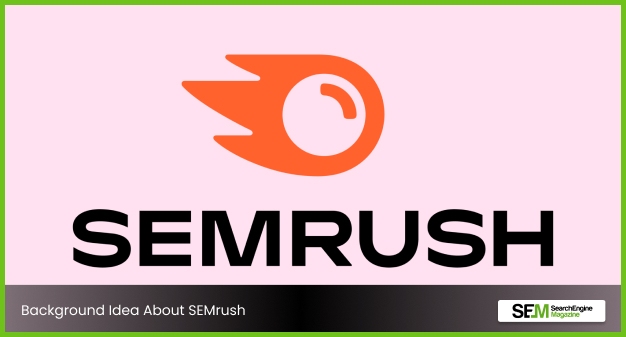 SEMrush is a marketing toolkit that is beyond SEO. Its name is Focus search engine optimization. But it offers you to improve your paid ads, content, PR, and more.
SEMrush Features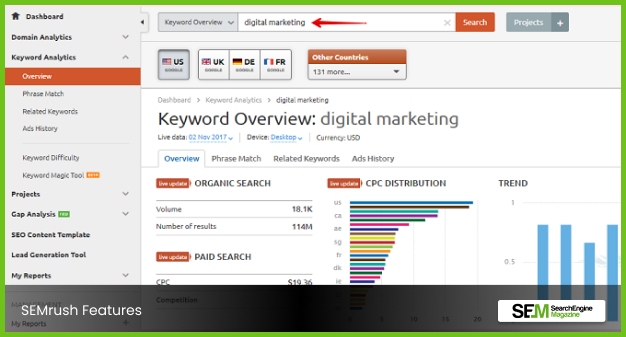 In terms of SEO, you will be able to access features like.
Traffic analysis.

Site audits

SEO writing assistant.

Side-by-side domain comparisons.

On-page SEO checker.
Paid And Display Advertising Research
PPC is good, and you are paying a platform to get the traffic and making a lot of money.
Maybe it sounds simpler than coming to perform it, but that's what SEMrush does. If you want an overview of how other companies or you are doing PPC you have to put the domain in the search bar.
Scroll down to the 'advertising Research' section.
The first list at the top is with tip-paid keywords along with their position distribution. You can use new keyword ideas to track the display ad execution. Below these, it lists the main paid competitors along with a position map.
Market Explorer
Sometimes you need a change, a new inspiration, especially when it's about launching a fresh business. That is where the market explorer tool is coming in to help you out. There you have to put a domain to begin so that you can compete with their traffic and growth sources.
Scrolling down the way will help you understand the buyer's personal demographics.
Social Media Poster And Tracker
Social media marketing is very powerful; therefore Facebook, Instagram is known as the most popular channels right now. If you like tweeting then here is what SEMrush includes: two social media tools.
A poster

A tracker
Here is how you can use the steps and follow them to use this feature:
You have to start with 'social media poster' which is under 'projects.'

Connect to any social media.

Create a new post, check 'my calendar', and track competitors.

Add texts and images.

Choose the date and time and hit the schedule button.

It will collect all the analytics directly via SEMrush.
Pros And Cons Of SEMRush

Pros
Many SEO content and information.

New ideas through market explorer.

Display and research data.

Monitoring capabilities.

Social media posting and analytics.
Cons
It takes more time to adapt.

Gives inaccurate data.

Complaints of tracking issues.

Much more expensive than ubersuggest.
Frequently Asked Questions (FAQs)
Q1. Ubersuggest Vs Ahrefs, Which One Is Better?
For your marketing plan, Ubersuggest also provides keyword recommendations, backlink data, and content ideas. Alternatives, such as Ahrefs, allow you to search for terms across 10 different search engines. So, both are useful.
Q2. Ahrefs Vs Semrush, Which One Is Better?
While Semrush provides google search data, Ahrefs helps you to do keyword research for 10 search engines. Therefore, Ahrefs and Semrush, both are great.
Q3. Is There Anything Better Than Semrush?
A Semrush alternative is Google keyword planner. You can find keywords by services, domain, or products using this.
Wrapping It Up
There you go with Ubersuggest vs Semrush – Best Keyword Research tools in 2022. We have shown almost all the differences between ubersuggest and SEMrush. The article is to make you understand and go for the right one – SEMrush or Ubersuggest.
Leave a comment in the comment section and let us know if you have any doubts.