6 Reasons Why Your Website Won't Be Successful Without an SEO Audit
Comments Off

on 6 Reasons Why Your Website Won't Be Successful Without an SEO Audit
, 26/01/2022, by , in
Search Engines
,
SEO
,
SEO News
To succeed online, you need to maximize your SEO efforts. It's as simple as that. The best way to keep your online presence in fine fettle? Make your website undergo regular SEO audits. What gets measured – gets improved. Luckily, an SEO audit is a great way to evaluate the search engine friendliness of your website.
An SEO audit is basically a health check which lets domain owners (you) explore their website's ability to rank in the search engine result pages.
In order to get to where you want to be, you have to know where you are first. That's why the road to digital success is paved with SEO audits.
Let's dive right into it.
Why You Need SEO Audits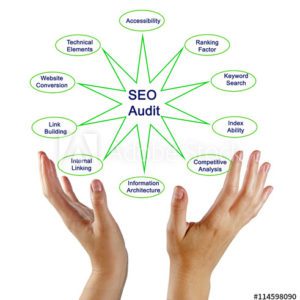 In the ever-changing digital marketing world, the importance of SEO audits can't be stressed enough. Staying ahead in the competitive SEO game means keeping on top of best practices, trends, and more. Thus, SEO audits are crucial for identifying the strengths, weaknesses, and potentials of your website and ensuring its long-term success.
An effective SEO strategy will help your website acquire higher visibility, which will, in turn, drive organic traffic, and improve your brand's authority, credibility and trustworthiness. 
Let's take a more in-depth look at why running timely SEO audits on your website is a must if you want to leave a digital footprint and others will follow, not the other way around.
6 Reasons Why Your Website Won't Be Successful Without an SEO Audit
Though an SEO audit might seem daunting, figuring out where you're at, where you can improve, and how you can surge ahead with SEO is necessary. Armed with the knowledge of an SEO check-up, you can stay ahead of the curve and reap a host of benefits.
Still not convinced? Here's why no one can afford to neglect SEO audits if they mean business.
1. Keeping Up with the Times
Even if your website is faring well at one point, there's no guarantee it will continue to do so. Search engines are constantly updating their algorithms to provide better search results and user experience. Just when you think you have everything figured out, Google might unleash a series of updates that makes your efforts instantly obsolete and sink your website without a trace.
If you are to avoid this fate and ensure your website's success, you need to carry out regular SEO audits and conform to any new algorithms or trends that the premier search engines might have introduced.
2. Identifying Hidden Pitfalls
In technology, a large portion of the job involves solving problems. What's the difference between a successful website and a less fortunate one? Successful webmasters and business owners prevent problems before they arise. Discovering issues before they flank your efforts is the first step in implementing a successful SEO strategy.
It's no secret that search engines love a healthy website. Running regular SEO audits will flag up and give you crucial information about any technical issues that your website might be facing, and help you nip them in the bud.
3. Improving Optimal Performance
An SEO audit is more than just a long list of issues ready to be tackled. A good audit also includes utilizing your strengths. It helps you determine priorities by identifying areas that might need fine-tuning and implementing changes that will boost search visibility, putting your business in front of the right users.
Make no mistake – there's always room for improvement. To improve is to change, and to be successful is to change often. Small improvements over time lead to stunning results.
4. Fresh Content Optimization
There is no point in crafting world-class content and then spoiling it all with shoddy and irrelevant keywords, meta titles, and descriptions. Correct text formatting and the right keyword strategy not only affect your rankings but the satisfaction of your readers as well. So, it's important to not only provide relevant, but also fresh content to search engines, and give users a reason to visit.
By performing SEO audits, you will be able to craft a more relevant and efficient content strategy that is fresh, up-to-date, and will improve page views, dwell time, and conversions.
5. Peeking Into Competitor's Efforts
How can you win, if you don't know what you're up against? The mantra of "keep your friends close, but your enemies closer" remains valid – even in SEO. SEO audits are vital not only for keeping up with your competitors but also for outranking them. By using your main competitors' weaknesses and strengths to your advantage, you can emulate their successful SEO strategies and beat them at their own game.
6. Keeping Tabs on Your Road to Success
Digital success is not a sprint – it's a marathon. SEO is a continuous, never-ending endeavor. SEO audit reports allow you to keep track of the changes you make and your website's overall performance, accurately. It also gives you a greater idea of what you can do next. This way, you can make sure you always stay on top of the game.
When to Perform an SEO Audit?
SEO audits need to be performed regularly for the long-term success of your website. The timely overhauling and upgrading of your website's technical infrastructure is the best way to continuously optimize its search engine friendliness and ability to drive conversions.
Beat potential road-blocks to the punch by conducting SEO audits:
After Launching a New Website
Prevention is the best medicine. Unlike a brand new car that doesn't need service right away, a new website can already have significant issues. If you catch them before or right after the launch, you can stay ahead and prevent any damage.
Weekly or Monthly
SEO audits are not a one-time fix. Content gets added and removed from your website and technical changes get implemented. It never stops evolving and you need to stay on top of that. Depending on how often changes are made, you should run a weekly or monthly SEO audit to catch any relevant issues.
After Big Changes and Updates
Moving a website to a new content management system or implementing major technical changes is always a good reason to run a new SEO audit to make sure everything is running smoothly. Also, any new search engine updates may shift your SEO priorities and your strategies need to adjust accordingly.
Audit Your Way to Digital Success
Building a website is science. Running a successful website is art. SEO audits provide the improvement-driving insights and record your website needs to succeed. From there, there's nowhere to go but up.
Use it to your advantage – audit your way to the top.
Read Also: